The True Wireless Earbuds segment picked up a lot of traction in 2020, especially in India. The same momentum is also being carried in 2021 which has resulted in 156% YoY growth in Q1 2021. The main reason for this uptick is the rise of budget TWS earbuds in India.
The budget true wireless segment is filled with a lot of options. Smartphone makers like Samsung, Xiaomi, Oppo, OnePlus and Realme have already jumped in and launched their true wireless earbuds in India, bringing many new affordable options for consumers. 
These are the best TWS under Rs 5,000:
1. Realme Buds Air 2
2. Oppo Enco W51
3. OnePlus Buds Z
4. Soundcore Liberty 2
5. Skullcandy Sesh
6. Noise Elan
7. Jabra Elite 65t
8. Amazfit PowerBuds
9. CrossBeats Evolve
With the launch of multiple true wireless earbuds in India, we have a bunch of value for money TWS that bring a great sound quality as well as the overall experience. In the current list, we have nine TWS which all are from different brands. In case you want to jump on the train and join the Truly Wireless Stereo earbuds army, here are the best TWS earbuds you should consider.
The budget TWS segment now even offers a hand full of earbuds with ANC. In fact, in this list, we have three earbuds from Oppo and Realme with ANC. The battery life is also one aspect that seems to be getting better over a period of time. 
Going forward, we are also expecting Poco to join the TWS army with its Poco Pop Buds. 
Best true wireless earbuds in India under Rs 5,000:
Image 1 of 7
Image 2 of 7
Image 3 of 7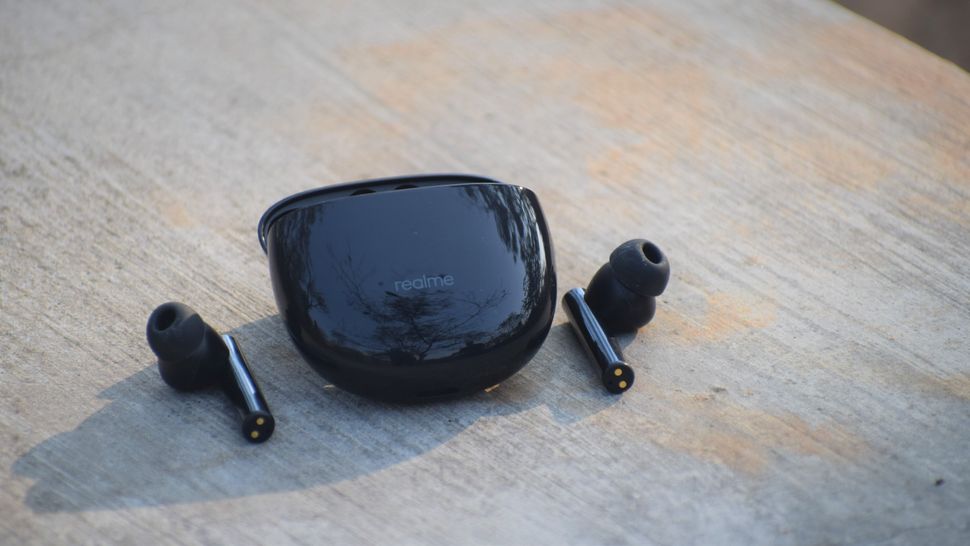 Image 4 of 7
Image 5 of 7
Image 6 of 7
Image 7 of 7
The Realme Buds Air 2 is a budget TWS with a lot of features packed into a tiny package. It brings ANC, Bluetooth 5.2 connectivity, excellent app support, and more for Rs 3,299. The Realme Buds Air 2 is our new go-to budget TWS recommendation. The star of the show here is the active noise cancellation making its way to a budget TWS, that was unheard of before. The ANC is fairly good for the price which Realme is offering it. 
The fit is extremely comfortable and easy to use for an extended period. The audio quality is surprisingly better than the Realme Buds Air Pro and the bass is also more punchy and thumping. It supports the AAC and SBC codec. The Realme Buds Air 2 offers mostly bass-heavy sound which most of us prefer and it serves well. 
The battery life is also pretty solid with 5 hours of playtime without ANC and about 4 hours and 15 minutes with the ANC turned on. A full charge will take about an hour to charge from 0 to 100. A quick 10 minutes offers 90 minutes of playback. It misses out on the wireless charging feature which was present on the Realme Buds Air. Overall for Rs 3,299, the Realme Buds Air 2 won't disappoint you. 
Read our Realme Buds Air 2 review
Check out our Realme Buds Air Pro review
Image 1 of 4
Image 2 of 4
Image 3 of 4
Image 4 of 4
The Oppo Enco W51 brings all the good stuff from Oppo Enco W31 and adds active noise cancellation align with a slightly better sound signature. All this for under Rs 5,000. There is a 7mm dynamic driver onboard with Bluetooth 5.0 connectivity and a range of about 10 meters. 
Each earbud is packed with a 25mAh battery and the case is having a 480mAh battery. On a single, the Oppo Enco W51 can last up to 3.5 hours and with the included case, you get up to 20 hours of playback. However, the battery is pretty average here. A quick 15-minute charge keeps the earphones running for up to 3 hours. You can change this by plugging a Type-C charger or charge it wirelessly as it comes with Qi wireless charging support. 
Image 1 of 6
Image 2 of 6
Image 3 of 6
Image 4 of 6
Image 5 of 6
Image 6 of 6
The OnePlus Buds Z are a great pair of truly wireless earphones for those who are on a tight budget. They offer decent sound, good battery life and a comfortable fit. However, the limitation of the touch control and not so punchy bass may let you down. Also, the OnePlus Buds Z sound better than the higher priced original OnePlus Buds. It comes with Bluetooth 5.0 and has 10mm dynamic drivers, with bass boost, dynamic stereo powered by Dolby Atmos and panoramic sound support. 
The sound signature on the OnePlus Buds is respectable for the price. The soundstage and the separation of the instruments are also decent. There is enough bass but it could have been punchier. The battery life on the Buds Z is also on par with others in the segment. You get about 4 hours of playback and there is also support for a quick charge. As for the functionality, the OnePlus Buds Z offer very limited options – double tap and long press. It also brings in-ear detection and IP55 rating onboard which are rare in the segment.
Price: Rs 2,999
Check out OnePlus Buds Z on Amazon | Flipkart
Read our OnePlus Buds Z review
The Soundcore Liberty 2 is a unique style true wireless earbuds that come in an in-ear style fit along with fins to get a strong fit. The TWS sports Bluetooth 5.0 paired with a 10mm diamond-inspired drive. These buds also support AAC, SBC, aptX codec. In terms of sound signature, you get clean vocals and punchy bass. 
In the battery department, these buds are rated to last up to 8 hours and up to 32 hours with the included case – one of the best in the segment. A quick 10-minute charge offers up to 2 hours of playback time. Other features include complete touch controls including play/pause, skip track, and voice assistant. 
Image 1 of 5
Image 2 of 5
Image 3 of 5
Image 4 of 5
Image 5 of 5
The Skullcandy Sesh TWS comes with an in-ear design, which means you get a comfortable fit. Just like the other TWS earbuds, they come with a case that doubles up as a battery. It comes with a physical button located on the outer surface of the buds. A single click will play/pause the media and to manage the volume, you will have to double click, and triple-click will trigger the Google Assistant/Siri. 
On the battery front, the company claims up to 3 hours on a single charge which is slightly disappointing.  The sound signature is decent and the bass is good. However, there is a noticeable Bluetooth latency with this pair of TWS which is it is not suitable for gaming. 
The latest product from the popular audio and wearable maker, the Noise Elan is in the list for two reasons. Firstly, it brings environmental noise cancellation (ENC) on budget and Bluetooth 5.2 connectivity both of which which is are rarity in this segment. With the ENC feature is built-in, the Noise Elan can suppress the environmental noise. The earbuds come with a total of four mics, two on each bud which delivers better noise cancellation. For audio, the Noise Elan sports a 6mm titanium driver with support for Qualcomm aptX adaptive sound.
On to the battery life, it can last up to 8 hours on a single charge and with the provided case, the TWS can go up to 36 hours, giving an additional four charge cycle. These are also in-ear style true wireless earbuds with interchangeable eartips. It comes with complete touch controls which perform operations such as manage tracks, adjust volume and there is also a transparency mode with which you can be aware of what's happening around you while listening to your music and lastly, there is a dedicated gaming mode with 80ms low-latency. 
Initially launched for Rs 12,999, the Jabra Elite 65t is now available for Rs 3,999. It brings a perfect balance of usability, features, and sound quality. It offers a reliable connection and is a pleasure to use day-to-day. Also, you get good battery life with up to five hours on a single charge and the case is good for an additional 10 hours(2 cycles). 
Further, the Jabra Elite 65t offers good noise isolation and you can also adjust ambient noise when you want it. The earbuds automatically turn on when removed from the case and turn themselves off when placed back in the charging case. You can use one earbud at a time, though the right earbud acts as the master. The overall sound quality is excellent – it's balanced. It also comes with app support. 
Read our review of Jabra Elite 65t
Image 1 of 7
Image 2 of 7
Image 3 of 7
Image 4 of 7
Image 5 of 7
Image 6 of 7
Image 7 of 7
Launched at Rs 6,999, the Amazfit PowerBuds is now available for just Rs 2,599. The Amazfit PowerBuds hopes to address the never-ending issue of wireless earbuds' fit with a design that can convert into something more reliable. The ambitious design implementation is backed by great battery life, a sound signature tailored for the task and a sprinkling for smart features to keep you going.
The Amazfit PowerBuds sound is delivered from 9mm drivers in each bud with rich bass and clear trebles. The Amazfit PowerBuds come equipped with PPG sensors in each earbud, which use light-based technology to monitor blood flow and produce a heart rate reading. 
If you're looking for a pair of buds that work great for fitness while staying minimal and tiny, prefer music with a bit of bass, and value features such as heart-rate tracking, then the Amazfit PowerBuds are an easy recommendation.
Powered by QCC3020 Chipset and paired with Bluetooth 5.0, the CrossBeats Evolve buds are rated to last up to 24 hours with the included case and w shopping 12 hours claim on a single charge – which looks like a stretch. In terms of design, the earbuds come with a unique half-transparent look, which offers a stunning look. But, due to the large size, the fit might not be suitable for all. 
On the inside, these buds are powered by a 9mm dual driver with a microphone as well. For charging the TWS uses Type-C port and these are also IPX4 sweat and water resistant. It supports HFP, SBC, HSP, A2DP, AVRCP, AAC codecs. The whole package is a bit bulky weighing 221 grams. 
Best wireless earbuds under Rs 5,000 in India
| Product name | Price |
| --- | --- |
| Realme Buds Air 2 | Rs 3,299 |
| Oppo Enco W51 | Rs 4,999 |
| Realme Buds Air Pro | Rs 4,999 |
| OnePlus Buds Z | Rs 2,999 |
| Lypertek Levi | Rs 4,999 |
| Skullcandy Sesh | Rs 3,449 |
| Noise Elan | Rs 3,499 |
| Jabra Elite 65t | Rs 4,999 |
| Amazfit PowerBuds | Rs 2,599 |
These were some of the best True wireless earbuds available in India currently. In the near future, we can expect more earbuds to come to the market at an affordable price.